4K TV as PC monitor
Posted on | by friism
I use a 49″ 4K TV as my computer monitor both at home and at work. TVs are generally much cheaper than computer monitors of the same size. For my use of general productivity, programming and very occasional gaming, a mid-size 4K TV beats getting a couple of regular monitors on both price and result.
How to take advantage of a 49″ monitor? Windows 10 has simple window tiling functionality ("Snap Assist"), and you can use Win + arrow keys to quickly arrange windows in a 2×2 equally-sized grid. On a 49″ screen, each of those 4 grid elements are the size of ~25″ screens, which is generous for browser windows or 2-pane text editors. This 4 window setup is what I mostly use when I'm being lazy.
If I'm working on the same thing for a while, I use WindowGrid to divvy up my screen to fit more apps. I really wish Windows had a way to customize the snap grid pattern, but WindowGrid is a good alternative. 3 horizontal by 2 vertical is perfect because you can have two centered apps, the three columns are plenty wide and it's still quick to shuffle windows around a 6-pane grid.
Home: Samsung UN49KS8500 Curved 49″
I first got this 2016 curved Samsung 49″ TV to use with my home computer. I bought it used for $766. It's the best monitor setup I've ever had (I've previously used and enjoyed dual 23″ IPS panels, 27″ Apple Cinema Display and 27″ Dell 4k monitor). I use it on a deep (32″) floating desk that I built in my office. The depth of the desk combined with the slight screen curve makes 49″ the perfect size. I don't have to move my head much to look from one side of the screen to the other, and the screen fills up my field of view. The bezel is almost non-existent and the stand is attractive and doesn't take up much desk-space. Text renders crisply, the colors are beautiful and the picture is calm at 60Hz.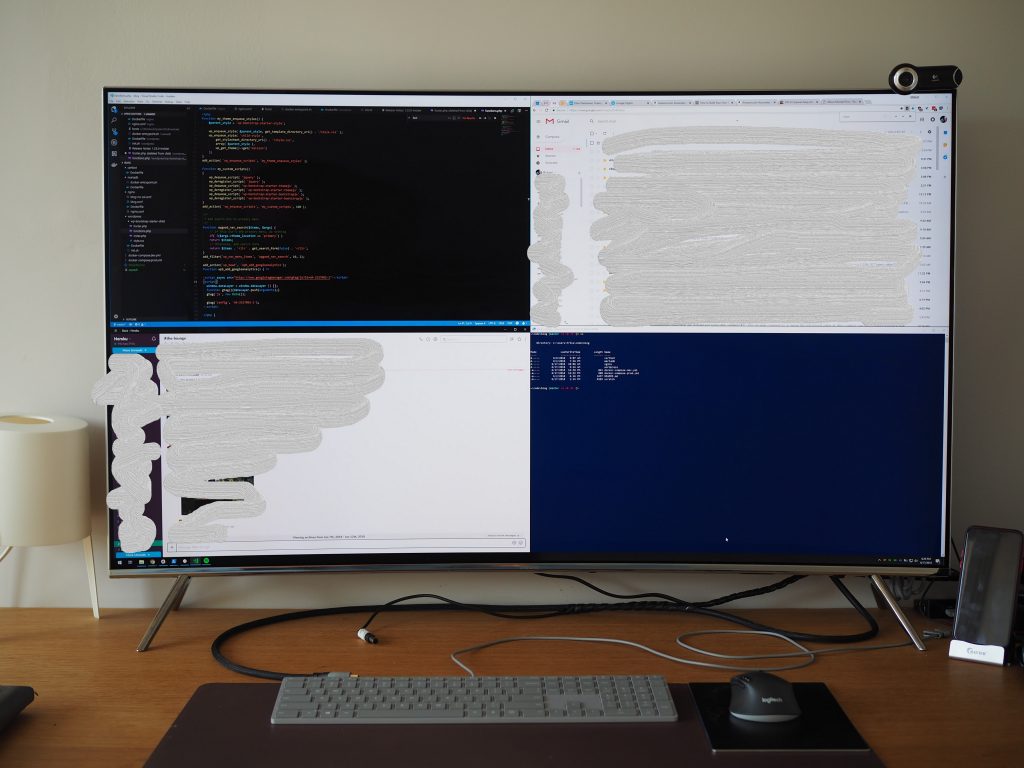 Office: TCL 49S405 49″
When I re-joined Salesforce a couple of months ago, I asked to get a 27″ 4K monitor because I had liked that while working at Docker. Unfortunately the IT department decided I was not approved for such extravagance (that's not a dig at Salesforce—in fact, you should come work with me). Since I was so happy with my home setup, I went ahead and approved myself for a $320 2017 vintage 49″ non-curved 4K TV which was more-or-less the cheapest 4k TV on Amazon at the time.
Receiving the giant box at the office was a surreal experience: It seems improbable that this much plastic, LCD, electronics, polystyrene and cardboard can be put together and schlepped to a 3rd floor San Francisco office so cheaply. I suspect TCL is an Elon-Musk-like organization, only instead of obsessively working backwards from the cost of kerosene and aircraft-grade aluminium to determine how cheaply one ton of satellite can be put into orbit, they do the same for plastic and liquid crystals to get cheap TVs into people's living rooms.
With the TV assembled on my work desk, I realized that this setup was not going to be as awesome as my home configuration:
My work desk is narrower, so I sit closer to the screen
With no curve (and sitting so close) the sides of the screen begin to suffer from fading because of the oblique viewing angle
While not bad, the TV screen panel is just not as good as the Samsung unit
I've partly addressed the two first problems by building and mounting desk extenders, and after much calibration and fiddling, I managed to get an OK picture out of the TCL TV. Even so, I'd definitely recommend limiting yourself to 43″ unless you have a big desk and/or you can get a curved TV. I had in fact planned to get the 43″ TCL model, but it's only $20 cheaper so I made the mistake of springing for 49″.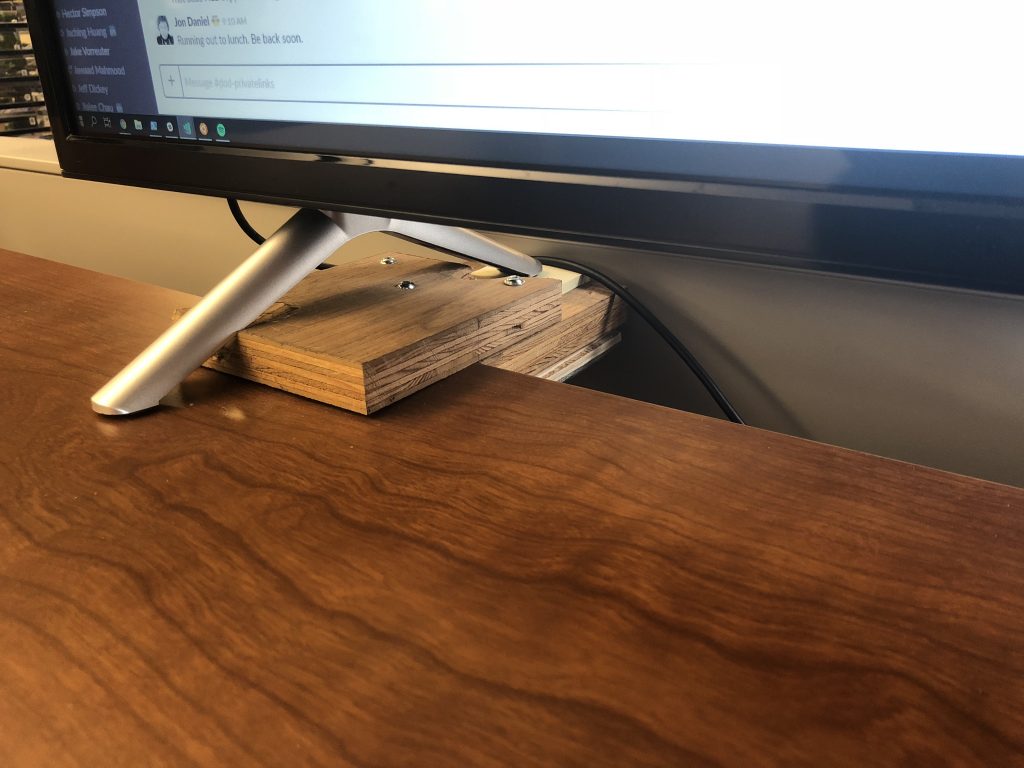 Summary
Overall I'd heartily recommend getting a 4K TV for use as a monitor if you have the space. I can't think of a setup I'd prefer over my current home office TV: dual 27″ screens have a bezel-seam down the middle and I have way more screen real-estate than any of the 34″ wide-screen monitors available. 4K has so many pixels that, even when spread out over 49″ and sitting just 2-3′ away, graininess is not really an issue. Another advantage is that TVs come with passable speakers—I listen to music piped over HDMI from my computer at home, and it's fine (if not exactly amazing).
49″ is the largest TV that makes sense in my experience, and depending on your desk and ergonomics, 43″ is probably a better choice. When choosing a TV model, be sure to get one that supports chroma 4:4:4 (my $320 one does). Otherwise the TV will sub-sample the image and text will look smudged.
One final word of caution: If you sit in an open office (like me), expect to spend on average 15 minutes every day explaining random passersby why there's a TV on your desk.