Frytki means French Fries – Świnoujście to Gdansk on a pushbike
Posted on | by friism
When I tell people that I once took the ferry from Copenhagen to Świnoujście and rode my bike across northern Poland, many go "I wanna do that, please tell me how!". It's rather simple really: If you live in Copenhagen, you just pack your bags, check the ferry schedule, ride down to Langelinje in time to buy a ticket, get on the ferry and you're off. For those wanting a slightly more elaborate guide, I present — by popular demand… "Frytki means French Fries – Świnoujście to Gdansk on a pushbike". I'll start with some general observations about traveling by bike and about Poland before moving on to the day-to-day itinerary.
Riding from Świnoujście to Gdansk, will take you trough the old German lands of Pomerania and West-Prussia. The Germans were booted out (or killed) after World War II and the land taken over by the Poles (who themselves had been kicked out of Eastern Poland by the Soviets). So while Świnoujście used to be "Swinemünde" and Gdansk "Danzig", all modern maps use Polish names and so will I. Some twenty years after the fall of the Iron Curtain, Poland still has a distinctly communist feel. The traveller in Northern Poland will see rusting machinery on abandoned communal farms, gray, dilapidated residential housing and Polski Fiats. The countryside is very pleasant however, generally flat or with gently rolling hills (good for biking), pine forests and nice, if narrow, beaches — rather like Denmark actually. Poles seem an easygoing and talkative bunch. Knowledge of English alas, is sporadic and German won't get you much farther.
Preparations and Info
This being a biking-holiday, your bike will obviously take center stage. I took my sturdy-framed, plenty-of-gears city-bike (since stolen) which worked pretty well. In retrospect, I would probably sacrifice a bit of speed and go for a good, old-school touring-bike. Modern bikes have you leaning over the handle-bars, putting a lot of weight on your wrists and hands. This is fine for zipping around town for a few minutes, but after half a day on an imperfectly paved road, your hands tend to go numb and your wrists get sore. This can be greatly alleviated by a pair of padded biking-gloves, but the human body is just much more comfortable with it's weight resting on it's bum instead of the hands. Other than gloves, biking-tights are recommended — at least for guys. They will make you look singularly silly but,…. do it for the kids. Martin, a friend, was good enough to lend me his — note that lending of tights between men infer a very special bond.
Other than the bike, I brought along the following: tent, sleeping mat, sleeping bag, bike tools and spares, towel and toiletries, compass (for crude navigation), some nuts and raisins for breaks and clothes to wear when not in the saddle. This was carried in two saddlebags (also kindly lent be Martin) and on the cycle rack. Do be sparing when packing, you will hate any unnecessary weight as soon as you hit the first dent in the landscape.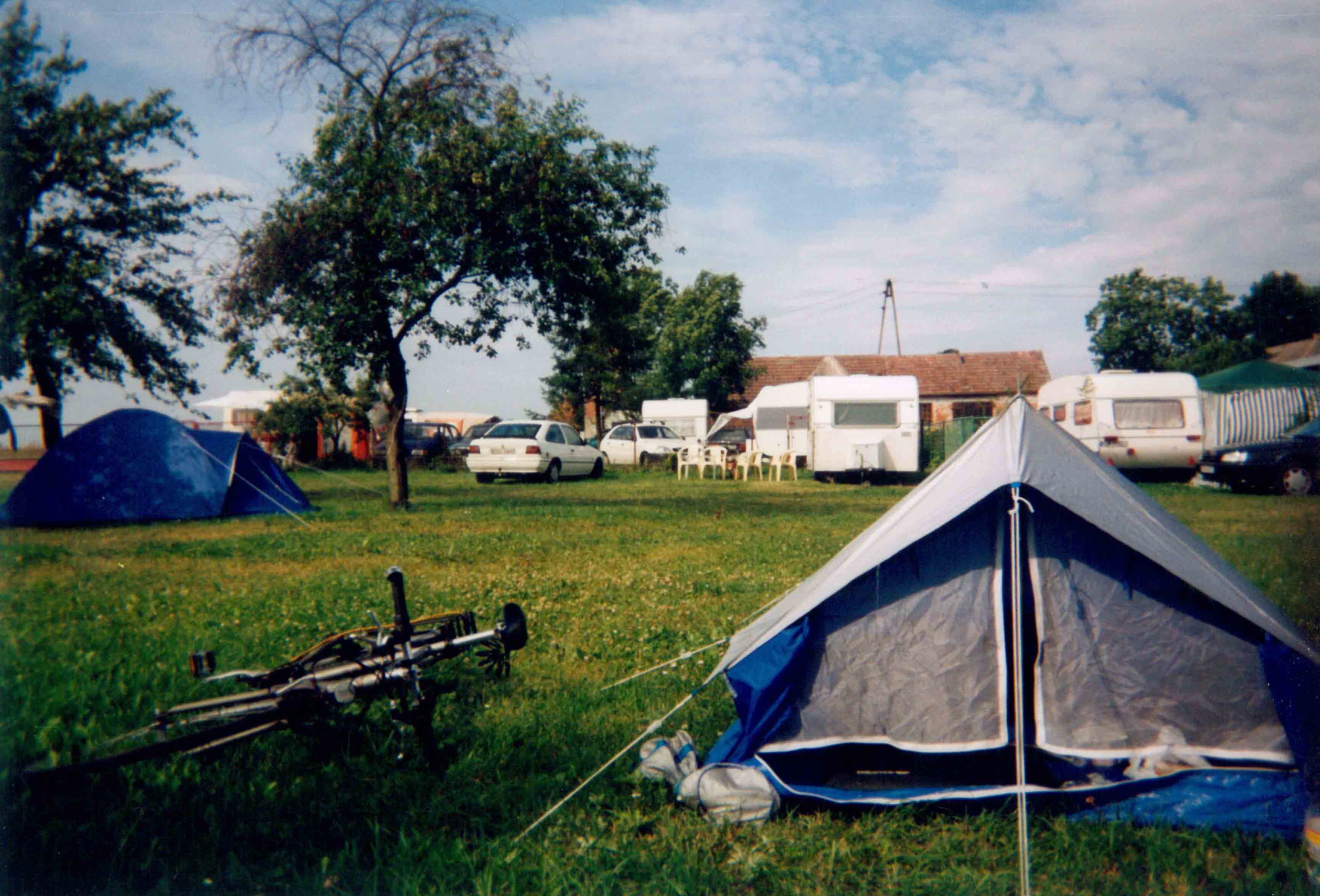 I generally camped in camp sites which are to be found everywhere along the Baltic Coast, a major tourist destination for Poles. Most campgrounds seem unfamiliar with itinerant travellers and getting them to understand that you wish to stay for just one night — as opposed to hanging around at the beach for a week — might take some hand waving. It's entirely feasible to sleep in the countryside but since campgrounds are cheap and plentiful, I didn't find it to be worth the trouble. If you want to jettison the tent and sleeping bag, I'm sure there are plenty of hostels around.
Polish cuisine is rustic and hearty. Bread and pastries are cheap and good and can be enjoyed with a wide selection of pâtés and sausages. In the mornings, shops carry freshly made cheese called "twaróg". It's kinda like cottage cheese, only strained and compacted — I love it. Bottled water can be bought in all shops, but remember to get the "nie gaz" variety — lukewarm fizzy-water is not what you want when hot and thirsty. In the evenings I would usually have a two course meal of soup or gulasch followed by some kind of meat with gravy and potatoes. Variations of this theme exists, but vegetarians would have a hard time I fear. This, along with a beer, will set you back about kr. 50. You could certainly bring you own cooker, but with restaurant food at these prices, I wouldn't bother.
From Świnoujście to Gdansk, going by the small roads near the coast is a distance of some 400-500 km. When going by bike, you should definitely try to stick to small roads as the bigger ones carry heavy, inconsiderate traffic. Riding 100 km in a day is not a problem, with 150 km possible if you get going early and stick to good roads. The trip can thus be completed comfortably in a week, including a day of sightseeing in Gdansk. If you want a longer trip, you can continue on from Gdansk to the supposedly nice "Lakes region" to the south-east.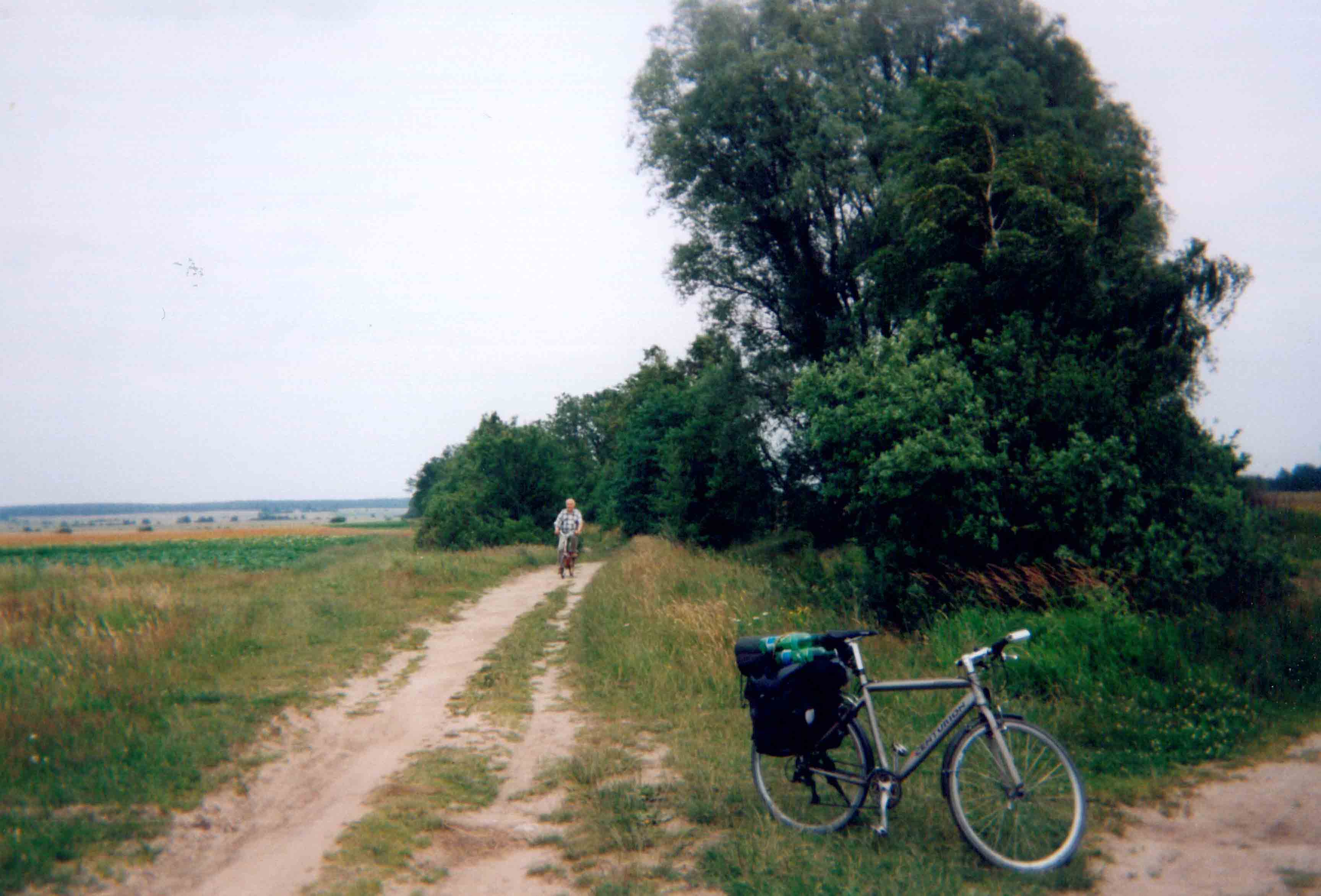 Itinerary
In the summer of 2004 I was mooning around, waiting to go to the US in the fall to buy a Jaguar and (less importantly) study at Caltech. Usually these summers would be productively spent playing Heroes of Might and Magic III and eating fish-sticks with my flatmate Jon, with an occasional guest appearance by Gabriel. This summer Jon had defected however, and was in Thailand with his girlfriend. Single-player Heroes, it turns out, blows. I debated the merits of the Camino de Santiago with Susanne, but ended up telling her that I was going biking in Poland. Note to self: If you can't summon the resolve to do something, tell someone else you'll do it — no chickening out then.
So, on July 15, 2004 I went by Martin to get his bike-gear and then packed my stuff. In the afternoon I biked down to Langelinje, bought a ticket (kr. 520 open-ended return, including bike) and rode onto the ferry, the good ship "Pomerania" (the name in Danish is nothing short of hilarious: "Det gode skib Pommern"). Sailing out of Copenhagen harbour in the sunset is very nice. Going south, you sail all the way around Amager and get to see airplanes taking off from the airport right above your head. The ferry reeks of oil, both the lubricating and the cooking kind. I didn't taste the french fries so I can't say whether the lanky Polish cooks got the two reversed: try them at your own peril. If you don't have a cabin (I didn't), you sleep in uncomfortable air-plane like seats or on the floor.
Once off the ferry in Świnoujście, I adjusted my packs in the shade of a tree. The interesting parts of town are on the opposite (western) side of the Swina river so unless you really want to see it (it was thoroughly flattened by the Americans during WWII and then used by the Soviets as a naval base — don't bother), you might as well head east out of town. I had neither map nor money at this point, luckily there's only one road going east. In Międzyzdroje I withdrew the equivalent of kr. 1000 in złoty from an ATM (these lasted me thought the week) and purchased a 1:200.000 tourist map of the entire Polish Baltic Coast. For reasons of morale, I recommend maps with fairly large scales as they give the impression of covering great distances :-). Międzyzdroje, by the way, is a beautiful, genteel resort-town in Wolin National Park.
Heading out of Rewal, I encountered the first of a string of army bases that line the coast. During the Cold War, these bases where used by Polish marines training for the invasion of Falster and Sealand so that we Danes could also have shared the wonders of socialism. The bases are not marked on maps, nor by signs on the road so I had to double back some 5 km after having been pointed at with an AK by some dude in a guard tower. In general I found that the absence of towns/beaches/roads on my map suggested an abundance of sullen conscripts in real life, but it's not a reliable measure. I'll warn you of the ones I encountered, ask the locals for directions if in doubt.
Army bases not withstanding, the Baltic coast is absolutely wonderful. On this the first day alone, I rode through dozens of small resort villages perched in dunes behind the beaches. The coastal areas also feature another communist relic (other than military bases): Giant holiday-camps for the youth of the industrial heartland, replete with dorms and communal kitchens. The camps are still run by someone it seems, so young, tan and happy people on vacation abound. My first day of riding left me in a forest east of Kołobrzeg, some 100 km from Świnoujście (not counting the diversion).
The second day took my as far as Jarosławiec with another army base impeding progress in the Sarbinowo-area. On the way I stopped in Darłowo, an old Hansestadt. The town features a castle with a lot of old junk which I duly inspected. Eric of Pommerania (who succeeded Margaret I as regent of Denmark and the Kalmar Union) is buried there, you should go say hi. Fed up with having to turn back, I asked the lady at the restaurant where I had dinner whether I might encounter obstacles going east from Jarosławiec. And "bingo", this time an airbase no less. You can even see it on Google Maps. I wonder why they have to put these installations right on the beach where people will want to bask and frolic and ride their bikes…?
From Jarosławiec I rode through Słowiński National Park to Leba, a somewhat larger resort town. The next day, there was a slight drizzle and I decided to just stay in town and read Don Quixote. The weather cleared somewhat in the afternoon so I biked out to climb a giant wind-mobile sand dune west of town. I was staying at a very small campground (someones backyard really) and the other guest were interested in my expedition. One of them — a friendly engineering student — even spoke some English and we drank Bruderschaft (and then some) before the five of us went out on the town. Good times.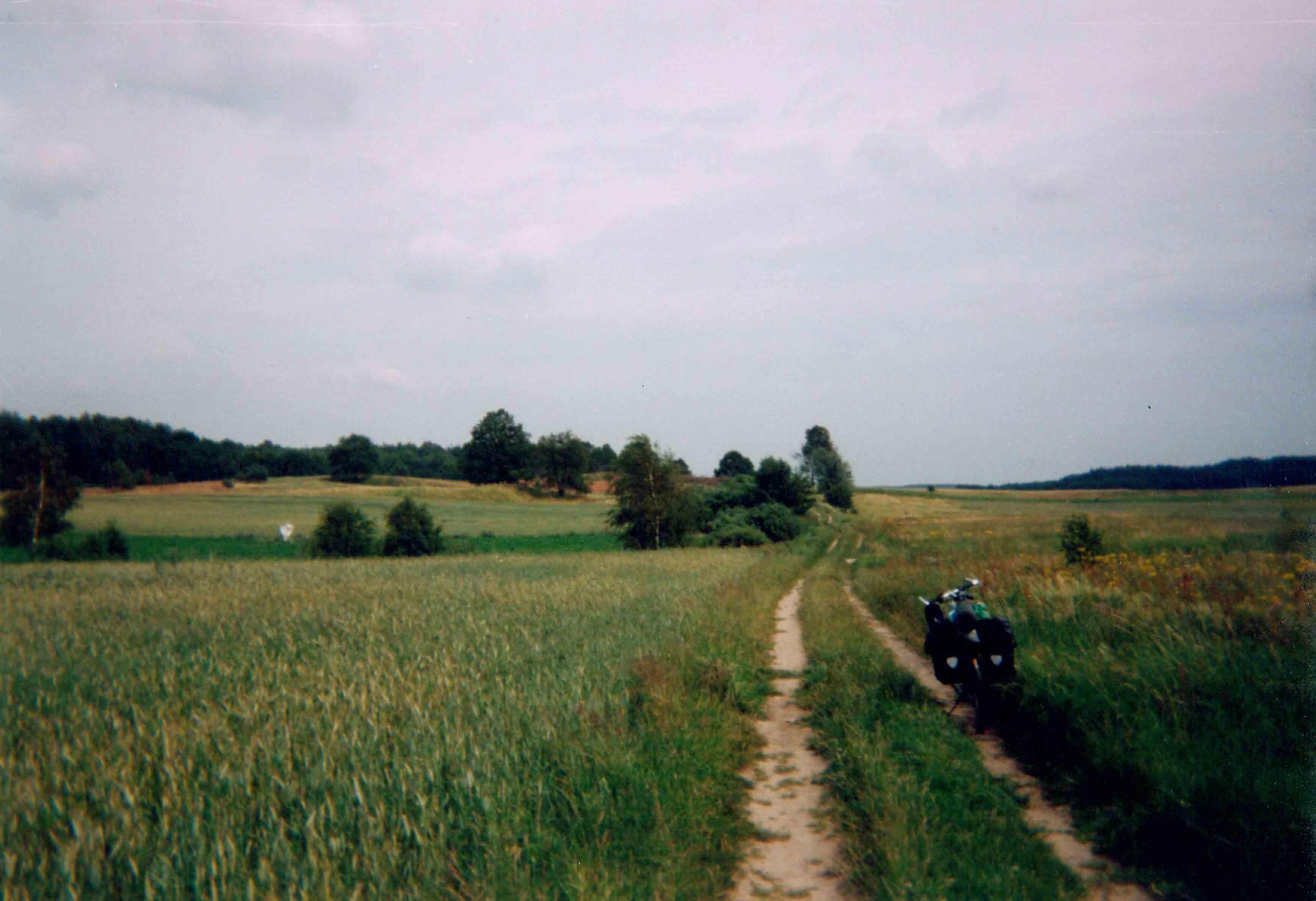 Rising later than usual, I continued on to Hel (watch out for some sandy roads east of Leba), a 35 km sand dune sticking out into the sea. During WWII, the Germans managed to hold on to the tip right until the end of the war and military installations remain to this day. The most common sight during the summer however, are kite-surfers taking advantage of the shielded bay. On the very tip, you'll find a small village with a dodgy campground (no shower) and a lighthouse that affords a nice view.
Unless you wanna go all the way back along the peninsula, you should grab one of the ferries running to Gdansk. There's a fast hydrofoil, but it was a windy morning so I had to contend with a lumbering 3.5h trip on an older ferry, including stop-overs in Gdynia and Sopot. The ferry will take you right into the center of Gdansk, past the giant cranes of what used to be the Lenin Shipyards. This was where Solidarity, with Lech Wałęsa in front, laboured tirelessly for freedom and democracy before finally overthrowing the communists in 1989.
Gdansk is a tourist destination on it's own, and you could easily spend a weekend there. I deposited my luggage at the station and explored the city center which has been restored to it's former hanseatic splendor. The Church of St. Mary is the worlds largest brick church, and is indeed huge. When standing in the entrance, the people near the alter look positively tiny. Remember to climb the tower to get a view of the town.
Back at the station, I got a ticket for Świnoujście for the night train with a change in Poznań. The timetables for Polish Rail haven't been digitised (as of 2004) it appears. I was unsure of how to get to my destination, so I presented it along with the required time of arrival to a serious-looking guy in a glass box who then, from memory and after much furrowing of brows, produced an itinerary for me. Polish trains are old as dirt and not made with bikes in mind so getting on and off involves much pushing and clambering. After my middle-of-the-night change in Poznań, I was bruised and sweaty and ready for a shower, but I still had to endure the cruise back to Copenhagen on M/F Pomerania which looks even more depressing in daylight. Back in Copenhagen, seven days after I left, I rolled gently home, unpacked and took a looong shower before dozing off.
So there you have it: Want a cheap, unplanned and cheerful holiday, just pack your bike and hop on the ferry to Poland :-).