Wall Outlets with USB Ports
Posted on | by friism
In case you didn't know, wall outlets with USB ports are a thing. They're neat for a couple reasons:
Cleaner look, no wall-wart chargers hanging off the wall or falling out the socket
Always there and don't disappear because someone has to quickly pack for a business trip
110V receptacles can be used for other things that USB-chargers
When we moved in 2017 I installed outlets with USB-A ports in a couple of strategic locations and really liked them. The most-used locations are the kitchen and hallway where we tend to charge phones, bike-lights and so on.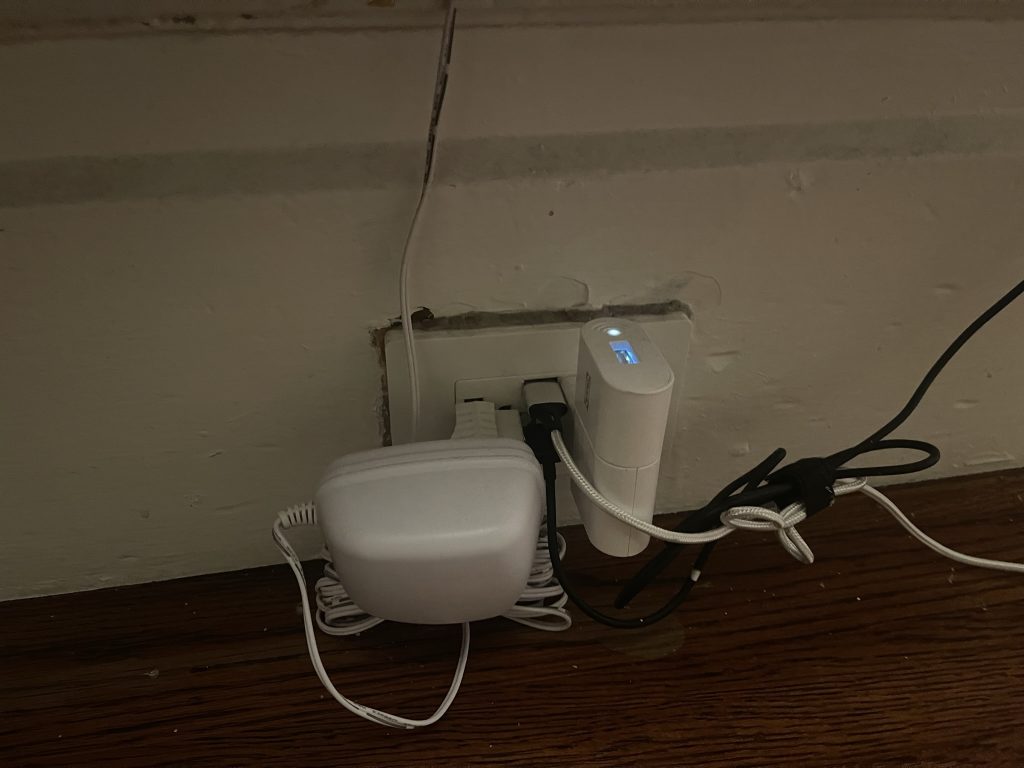 I also installed an outlet with USB-ports behind our bed headboard to charge phones at night. This works fine, but in retrospect was it also relatively pointless: There's already power strip behind the headboard to power reading lights and other stuff so the USB outlet doesn't make it any cleaner or more convenient than a wall-wart in the power strip.
12W USB-A type outlets were fine for 2017: USB-C wasn't all that common (at least not for charging phones and tablets) and you couldn't get outlets with high-power PD type USB-C ports anyway. That left me without an elegant way to charge our USB-C/Thunderbolt-port laptops. Without having done any research, my understanding is that Ultrabook-style Windows laptops generally require at least 45W to charge, and can typically accept higher charge rates. Way more than what comes out of the USB-A ports.
Laptop charging around the house became less of a problem with the pandemic because both my partner and I now haw full-featured home desk setups that we plug into, but a new one cropped up: HomePod Minis. These are in plain sight in our kitchen and I never really liked the look of the 20W wall-wart with a wire snaking down to the inevitable coil around the base of the speaker. HomePod Minis originally required the full output of the included 20W charger, but a software update dialed that down to 18W—still too much for USB-A outlets.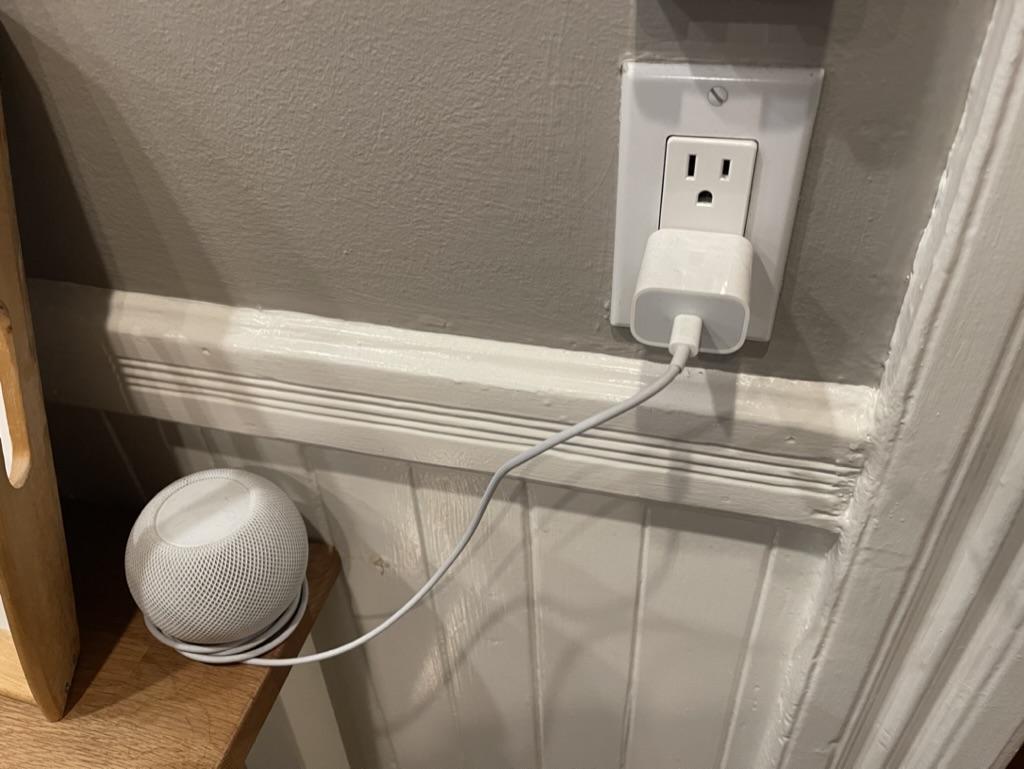 I've periodically checked for outlets with higher-power USB-C ports, and they finally starting showing up this past year. I was slightly annoyed it took so long since it's an obvious improvement and 3rd party wall-wart manufacturers like Anker were perfectly capable of churning out GAN-based chargers that would fit within the envelope of a standard US wall receptacle. I guess safety regulations, heat-dissipation and reliability requirements combine to make designing a wall-plug receptacle integrating high-power USB-C ports harder than it seems.
Regardless, we're now spoiled for choice and you can get outlets with (at the time of writing) up to 60W single-port output, enough to charge even relatively powerful laptops. When deciding which ones to get, I was tempted to spring for the most powerful (and expensive) option, also because installing outlets involves turning off electrical breakers and is generally annoying and not something I'd want to do again later to upgrade. But I ended up going for a much cheaper dual USB-C ELEGRP model with 36W max output (18W per port) that I can't find on Amazon anymore.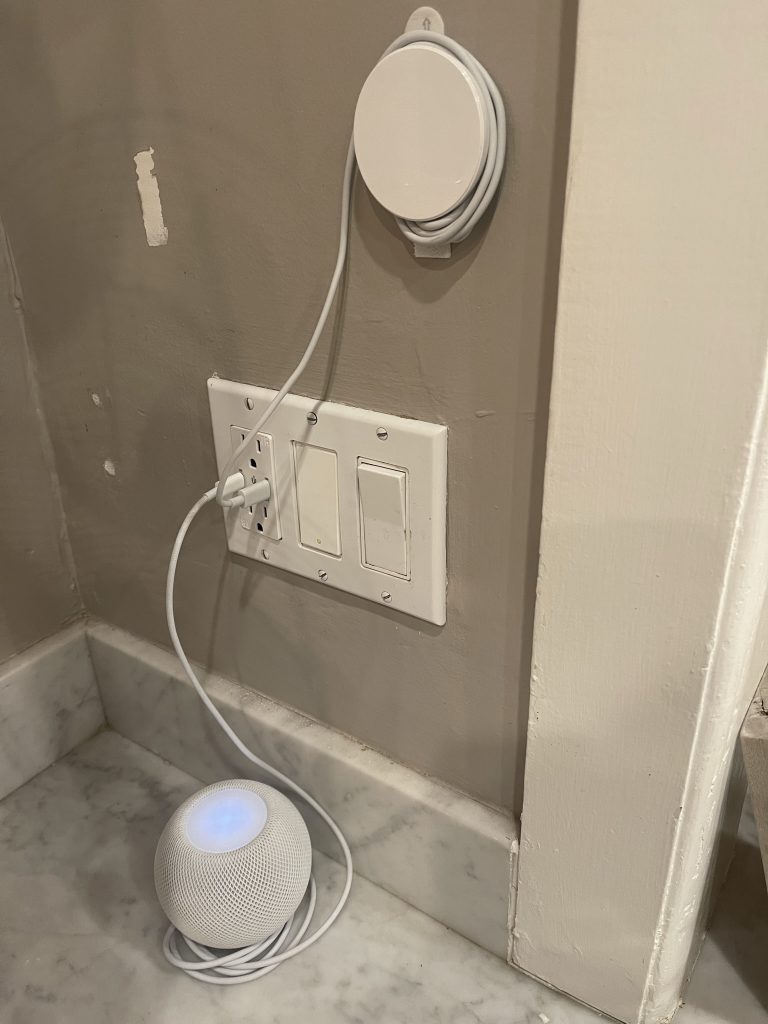 I chose those partly because they're powerful enough to power our HomePod Minis and high-output MagSafe chargers, and partly because I've largely switched to Apple Silicon Laptops that have much lower power draw. In fact, both my M2 MacBook Air and (work) M1 MacBook Pro can charge (albeit very slowly) off the old USB-A style outlets (I'm sure someone's going to point out in the comments that one should only use a proper Mac charger and that I'm ruining my laptop batteries and so on, but I'm going to go ahead and assume that whoever designed the charge controller chose to add support for those charging speeds because it's safe).
So there you have it: Wall outlets with integrated USB charging ports are awesome and are now powerful enough to power small speakers and even laptops, in addition to charging phones and tablets. And outlets with built-in USB ports look much cleaner than wall-warts that fall out, go missing and take up an outlet.